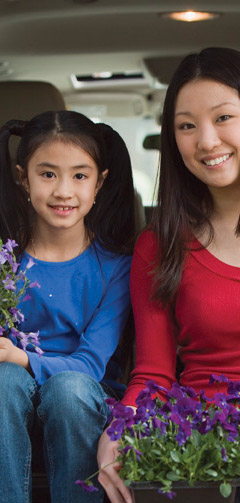 Reviews from READIVAN Rental Customers
READIVAN wants to hear from you! We are eager for customer feedback. Contact us to let us know how well we served you. Your testimonial examples allow us to learn more about your experience with READIVAN and your satisfaction with the van rental, customer care, and assistance you received. By providing us with customer feedback, we are able to strengthen our relationship with you as a customer. We want our service to reflect your most up-to-date experience with us. We have received exceptional customer feedback in the past, and the testimonial examples on our web site show READIVAN's commitment to excellence. Now, we need to hear from you! We gladly welcome amusing travel anecdotes and testimonial examples of your personal rental experiences with READIVAN. When choosing a rental service in San Diego, consider the glowing customer feedback READIVAN has already received. READIVAN specializes in meeting your transportation needs exclusively, and we put our all into making your experience right the first time! Please read our testimonial examples submitted by real customers, like you, to see how the READIVAN experience made their trips enjoyable, easy, worry-free, and fun! Why not add your own customer feedback to the list?
"When Bruce at READIVAN answered his telephone with such a sincere and happy voice, I immediately thought that I had made the right choice by renting vans from his company. He gave me confidence and was also able to give me valuable information for our trip south.

Our church group of 13 persons were planning to build a home and playground equipment for The Erma Fennell Foundation for the Needy in northern Baja.

Our vans were ready for our arrival and were just what we needed for our group. The location of READIVAN is ideal for anyone heading south, close to the airport for easy pick up and close to Hwy #5, your highway to the border. Our group will use READIVAN again and we will recommend to everyone we know."
Sincerely,
Eleanor House,
Banff, Alberta, Canada
---
"I lead mission teams from Calvary Emerald Coast in Fort Walton Beach Florida to Casa Del Pastor in San Vicente Mexico four times a year. We fly into San Diego and drive to San Vicente. For the past three years we have rented 8 passenger and 15 passenger vans. On some trips we use as many as 4 vans. The customer service we receive is second to none. Our vans are always ready to go. The personalized service and attention to detail make our entire rental experience from the time we make the reservation to the time we return the van enjoyable."
David Laird
Director of Missions
Calvary Emerald Coast
---
"For the past six years READIVAN has helped make our service trips to Mexico a success. Van rental to Mexico is often complicated and burdensome. With READIVAN, it is fast and easy and the vans are always in great condition. We have never been disappointed and I have always been impressed by the care and concern we receive from READIVAN. Renting from the great folks at READIVAN makes planning our service trips a breeze. I recommend READIVAN without hesitation."
Greg Harkness
Xavier High School
New York City
At your service



We want
to earn
your satisfaction