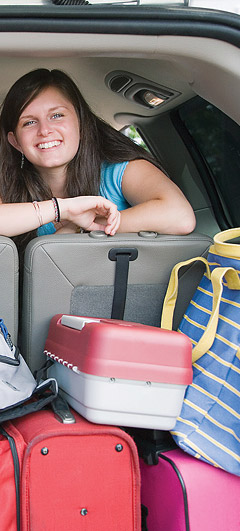 Child Safety Seat Reservation with Car or Van Rental
At READIVAN, safety is our number one priority! To make your car or van rental experience both safe and convenient, we offer child safety seats for infants, toddlers, and children under 8 years of age. Our safety seats conform to government standards, and your reservation for a child seat is guaranteed.
The NHTSA - National Highway Traffic Safety Administration - recommends the following car seat safety precautions:
Select a car seat based on your child's age and size, and choose a seat that fits in your vehicle and use it every time.
Always refer to your specific car seat manufacturer's instructions; read the vehicle owner's manual on how to install the car seat using the seat belt or LATCH system; and check height and weight limits.
To maximize safety, keep your child in the car seat for as long as possible, as long as the child fits within the manufacturer's height and weight requirements.
Keep your child in the back seat at least through age 12.
Below is The National Highway Traffic Safety Administration's recommendations for which booster seat is right for your child. We have infant car seats, toddler car seats and child booster seats available and we'll be happy to help you install and secure it properly.
IF YOUR CHILD IS:
THE RIGHT RESTRAINT IS:
Up to 1 year old
(and up to 20-22 pounds)
Rear-facing Infant Seat or
Convertible Child Restraint
(in rear-facing position)
Ages 1 to 4 years
(and 20 to 40 pounds)
Forward-facing Child Restraint
Ages 4 to 8 years
(or until 4'9" tall)
Belt-positioning Booster Seat
(with lap and shoulder belt)
Age 8 and over
(or at least over 4'9")
Standard Lap/Shoulder Belt
(in the back seat)
We Provide
free
transportation
to and from
the nearest airport.