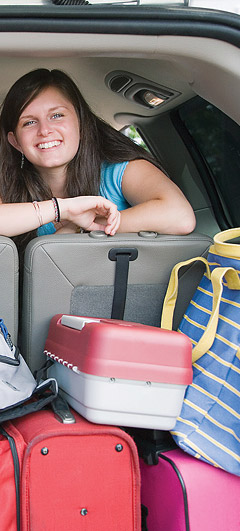 GPS Navigation Systems - Rental Information
At READIVAN, we understand that getting around an unfamiliar place can be stressful. That is why we offer GPS navigation systems with all our rentals for only $11.99 per day. Our GPS rentals give turn-by-turn audio instructions and provide vocal and visual prompts for when to turn. You can search for locations by address or category, and the GPS will save your addresses and recent destinations for return trips. Get the most out of your trip and rent a van with an optional added GPS system, so you can travel worry-free and look up attractions, addresses, or just find locations nearby at the touch of a button.

Our GPS systems can also help you explore any area you're traveling to. Traveling to Mexico? Our GPS systems also work in Mexico so you won't get lost. With a navigation system, you can search for food, lodging, shopping, or entertainment close to wherever you are. Never get lost on a vacation again! Request a GPS navigation system with your car rental or van rental today.
We Provide
free
transportation
to and from
the nearest airport.